Honey Marmalade Carrots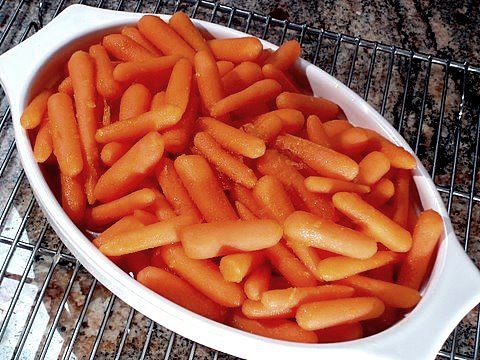 INGREDIENTS

• 1/4 cup butter
• 1 cup orange juice
• 6 tbsp Seville orange marmalade
• 1 1/2 tsp salt
• 2 lbs baby carrots
• 1/4 cup Pinecreek honey
• 1 tbsp grated organic orange zest
• optional lemon juice
METHOD

• Melt butter in a small saucepan; add orange juice and marmalade. Boil vigorously, stirring occasionally. Cook until mixture has a sauce-like and is reduced by about half. Remove sauce from heat, set aside.

• Bring 2 quarts of water to a boil. Stir in 1 1/2 tsp salt, add baby carrots. Boil until tender-crisp, about 5 or 6 minutes. Drain.

• While carrots are cooking, re-heat orange sauce. Add honey and grated orange zest to sauce. Stir to combine. Taste for sweetness, add some lemon juice if necessary. Pour over cooked carrots and serve.