Chicken Teriyaki with Honey Marinade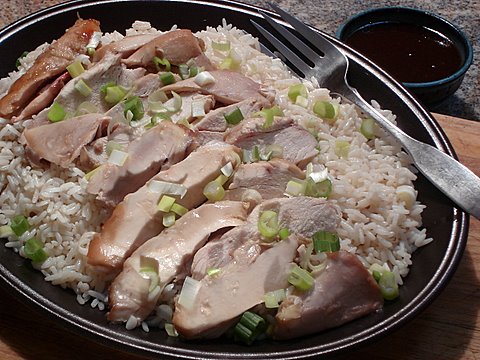 INGREDIENTS

• 1/2 cup Pinecreek honey
• 1/2 cup soy sauce
• 3 garlic cloves, minced
• 1 tbsp grated ginger root
• 1/4 cup dry sherry
• 1 tsp sesame seed oil
• 4 lb. chicken parts, boneless/skinless thighs and breasts preferred
• steamed rice
• chopped green onions
METHOD

• To make marinade put the honey, soy sauce, garlic, ginger root, sherry, and sesame seed oil in a small pot. Cook over low heat, stirring the whole time, until honey dissolves. Remove from heat and cool to room temperature.

• In a medium size bowl, combine marinade with chicken parts. Refrigerate for 6 to 8 hours, turning chicken parts every 2 to 3 hours. Then transfer the chicken parts and marinade to a 9 X 13 casserole dish. Cover with foil and bake in a 300F oven for 1 hour and 15 minutes, or until thickest pieces are cooked to 165F.

• Separate chicken from sauce. Run sauce through a sieve. Slice chicken and serve over a bed of steamed rice. Serve garnished with chopped green onion and sauce* on the side.


*For a thicker richer tasting sauce, reduce by boiling it in a small pot for 5 to 10 minutes. Hold chicken in a warm oven while sauce is being reduced.